Come and join me for my most comprehensive airbrushing class to date. I will take you through SO MANY techniques to help you really gain confidence with airbrushing.
This class was originally split over 4 weeks, with different lessons each week to download and keep. You are welcome to still follow it week by week, or binge watch all in one go.
You can even leave it for several months and get to it when you have time. Its up to you. The wonderful thing about this class is that you can take it AT YOUR OWN PACE.
Whilst I used to offer the class for £75, and it included the colours, icing sheets and stencil used in this class , Due to Covid- 19 restrictions, I am currently offering it at the reduced rate, for just the online access to the class. ( full class experience , but without the stencils, colours or icing icing sheet)
You are welcome to purchase the items I use in class through my website ( links in the class)
However, they're Not essential. It will not detract from your learning, as I'm sure you already have colours at home, and you can use ANY stencils you already have.
When we do week 4, use your own stencils, and if you don't have edible icing sheets, why not just practice on A4 paper!
JUST LOOK AT HOW MANY LESSONS YOU'RE GETTING!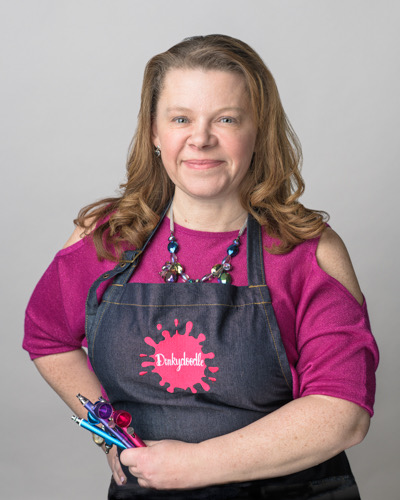 Hi, I'm Dawn Butler,
Director of Dinkydoodle Designs and I'm your host for this class.
Affectionately known as the " Queen" of airbrushing I shall be sharing my entire expertise with you in this most comprehensive airbrushing class.
What else can you take part in?....
Why not check out my some of my other popular and supportive courses here!